Handypiece: Efficient, reliable, and durable, portable sheep shearers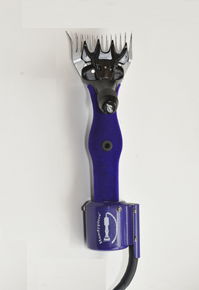 A world-first, the versatile Handypiece has a multitude of uses. Developed by a farmer, for farmers, Handypiece offers crutching and electric shearing equipment that's specifically designed to benefit the farmer 'out the back' - away from the sheds and away from the power.
Convenient and easy to use: Portable sheep shears that can clip, dag, and crutch
Slim-line in design and comfortable to hold, Handypiece is lightweight, well-balanced, and conveniently-sized. Moulded from steel and aluminium, it makes no compromises on quality or useability. No generator? With a low current draw from the 12 volt 10.5Ah Lithium Polymer battery, you can crutch between 200 and 300 sheep on one charge, or sheer up to 50 sheep, or with your extra battery up to 600 sheep.
The how and why of Handypiece development: The original portable sheep shears and crutchers
Like all good inventors, David saw a need and rose to the challenge to meet it head-on. And there's no better recommendation than a tool developed for farmers by a farmer. Farming a small block at the time, David and his dad were alerted to the very real need for user friendly portable sheep shears and crutchers; a tool that's durable and reliable, but easily-operated well away from your farming sheds. And the rest, as they say, is history.
How quickly can Handypiece come into its own?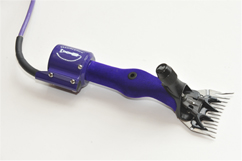 Handypiece can make a difference in an instant. Whether you're out on a block that's large or small, Handypiece offers electric shearing equipment that you can use to dag, crutch, and shear on the spot. Even better, you'll soon notice the relief its lightweight and slim construction gives to your hands and farming. You can even easily deal to fly-strike! The further you are from the sheds or the power, the more handy this piece of Kiwi ingenuity becomes.
Handypiece compares well with other sheep shearing tools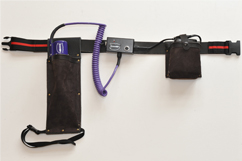 At only 1.4 kg, the Handypiece is up to 100gms lighter then a traditional handpiece. And with its well-engineered weight distribution, it is not only balanced, but easy-to grip. It easily helps you to dag, crutch, and clip. Most of all, it's portable and designed to cope with harsh farming conditions. It's electric shearing equipment at its best, and will change the way you farm.
Handypiece: The portable sheep shears and crutcher that can also be used on cows, deer and alpaca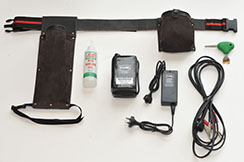 Handypiece has a multitude of uses, from trimming cows' tails to vets testing deer for TB, and now with the variable speed it is perfect to shear Alpaca. The extreme quiet of the Handypiece when in use is less stressful for animals than other clippers - of benefit all-round both to animal and operator.