David Short: Inventor, innovator, farmer with a difference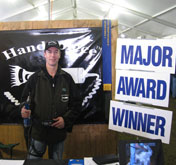 From replica race-cars to farming innovation, David Short's a living example of Kiwi ingenuity and talent. Read about his journey to inventing New Zealand's favourite portable sheep shearing handpiece!
Award-winning innovation: Taking the podium at Mystery Creek 07 and Sheepvention 09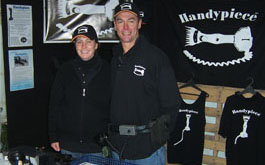 A farmer himself, David's applied his engineering experience to delivering the Handypiece. Developed from the ground up to meet the demands of his own farming day, his portable electric sheep shearer and crutcher quickly found favour with many other farmers. A well-known innovator and creator of replica sports-cars, the Feilding-based farmer took the podium at Mystery Creek with Handypiece. In 2006, the revolutionary portable sheep shearing handpiece won the coveted Supreme Innovation Award for prototypes at the National Agriculture Field Days, Mystery Creek, and in 2009 the winning award for innovation at the Sheepvention, Australia.
It all started at Waituna West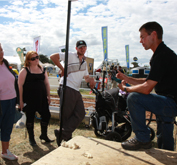 Featured in the best-seller 'Blokes in Sheds', for his exporting efforts with replica race-cars, David is a skilled engineer. Applying his engineering and farming experience to delivering the Handypiece, David developed a new portable crutching and shearing tool from the ground up, designed to meet the needs of both his and his father's farming day. It wasn't long before it found favour with many other farmers around New Zealand and then Australia, becoming famous for its slim-line design, durability, and ease of use.
The ABC of Handypiece: After-sales service, Buying with confidence, and Commitment to quality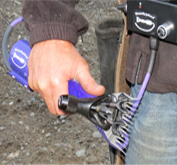 Once you've bought your Handypiece, you can rely on David and his A-grade after-sales service. This portable and electric sheep shearer will reach you safely, swiftly, and fuss-free. And once it's been set up properly for optimal use, you have a 1-year limited warranty to call on: peace-of-mind, efficiency, and value for money – what more can you ask for?
Ongoing commitment to innovation and enhancement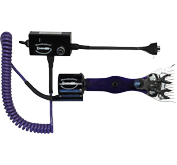 First developed in 2005, David's innovation has continued on until 2015 with the launch of the new Handypiece Pro. World leading in technology the new Pro can boast 1.3Nm of torque, 1.4kg of weight and speed adjustable for 2400rpm through to 3500rpm. If you want to see the potential of the Pro check out David Fagan in action at the 2015 Cheltenham Speed Shear.